This article provides an overview of domain names, subdomains, subdirectories, and an explanation of the benefits of using subdomains.
Domain Name
A Domain Name System (DNS) is the naming system for assigning name addresses to web servers, and web pages, on the internet. For example:
yext.com

google.com

wikipedia.org
Subdomain
A subdomain is a domain that is part of the larger domain. For example:
locations.yext.com

news.google.com
Similar to main domains, subdomains are used to create easy to remember addresses for specific or unique content within a website. For more information on subdomains, see the Add a Domain article.
Subdirectory
A subdirectory is any folder that exists beneath a domain. For example:
google.com/maps

apple.com/iphone
Subdomains, Subdirectories, and SEO
Most studies and SEO specialists agree that subdomain vs. subdirectory has no impact on SEO. For the most part, URL structures are a vanity feature, but have little functional value. While there are pros and cons to each approach, at Yext, we recommend a subdomain approach to service pages for a variety of reasons:
Performance, Scalability, and Reliability

Yext-hosted Pages are served from a global Content Delivery Network (CDN). This means that the most recent and up-to-date version of every local page is online and accessible from multiple points of presence across the globe. Additionally, because CDNs are part of a distributed network, there is no single point of failure or single site that can be hacked or hit with a denial of service attack.

Convenience

As much as possible, we want Yext Pages clients to be able to successfully launch pages with minimal effort from their internal IT organization. In many cases, the effort required to set up a subdomain for Yext Pages requires little more than a few minutes of work. Whereas setting up a reverse proxy to serve pages from a subdirectory can be a more complicated process requiring significant work from IT.

More opportunities to rank in SERP:

Google's index and algorithms understand the relationship between a root domain and a subdomain. From Google's POV, domains and subdomains are contextually the same. Though URLs on a domain and URLs on a subdomain are indexed separately, they often appear interwoven together within SERP Rich Results. In other words, Google understands that subdomains are part of the "primary" domain and that URLs on either the primary domain or subdomain are all effectively part of the same website. See examples below: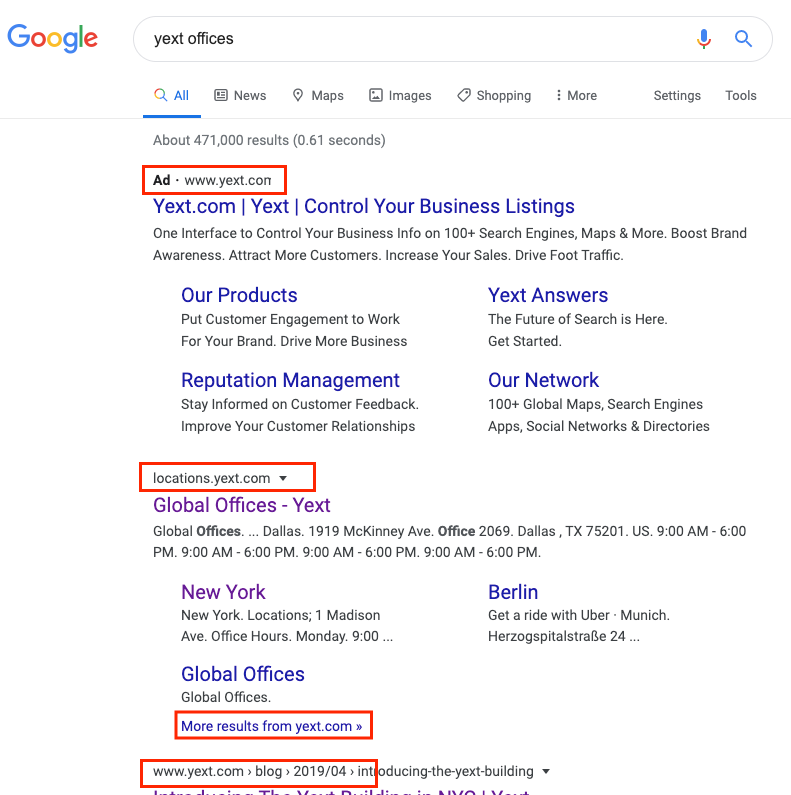 When conducting searches on Google, you will see the search results link to the main yext.com domain. Within the same search results, there are links to subdomain URLs to local office pages that are hosted on a subdomain (e.g., locations.yext.com), in addition to subdirectory URLs under yext.com (e.g., yext.com/about/contact).
Lastly, it's worth noting that the Rich Result includes a "More results from yext.com" link, which performs a site search on the primary domain (yext.com) for the original search term. In this regard, it's clear that Google understands the relationship between URLs on a domain and its subdomain and treats them as being part of the same site.