This article provides an overview of the analytics that are available on the Reviews Overview Screen and additional details on each insight. Note: This screen is only available for accounts with Review Generation.
To access your Reviews Overview Screen, click Reviews in the navigation bar and click Overview.
Top Filter Bar

By default, this page will display reviews for all entities. You can use the filter bar at the top of the page to filter the metrics on this page for a specific entity or set of entities.
Hero Numbers

The large number at the top of the page gives a high-level overview of your review activity. Clicking on a Hero Number will bring you to the relevant review page.
Reviews this Month

- The number of new reviews you received this month.

Average Rating this Month

- Your average overall rating for this month.

Generation Rate this Month - The percentage of reviews that were generated using Review Generation.
Recent Reviews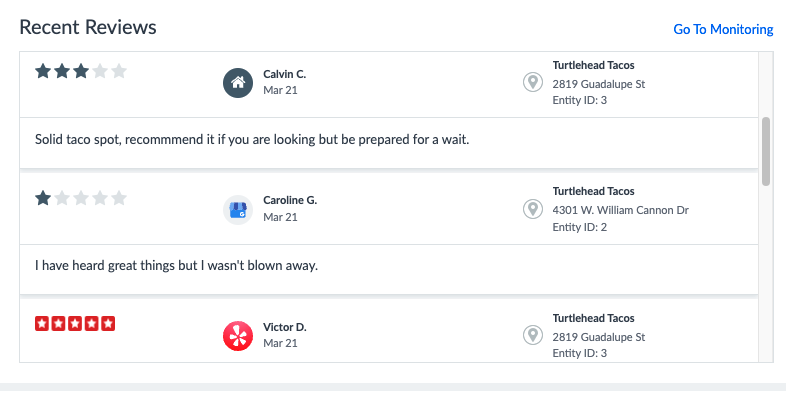 This section shows your most recent reviews. You can click on a specific review to open it in the Review Monitoring tab, where you can take action and view additional details. You can also click on the Go To Monitoring link to view all of your reviews in the Monitoring tab.
First Party Reviews this Month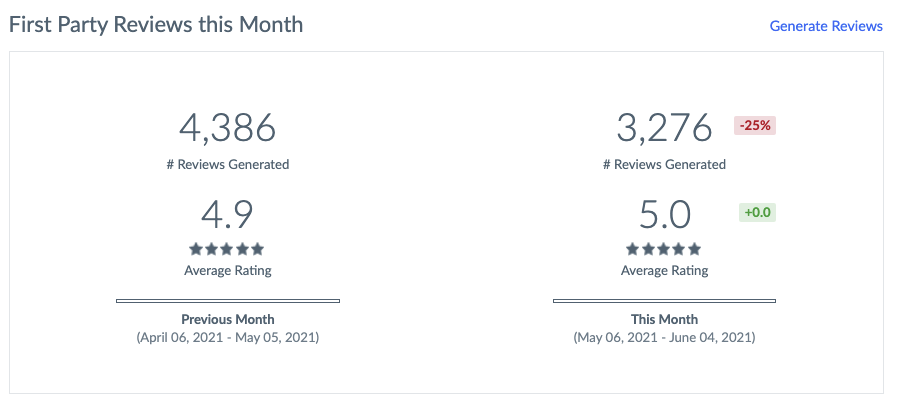 This section shows information about your First Party Reviews, such as the number of reviews generated and the average rating of those generated reviews. You can see a side-by-side comparison of the reviews you generated this month compared to the previous month.
You can also click on the Generate Reviews link to navigate to the Review Generation tab.
Similar Businesses Nearby

In this section, we benchmark each of your locations' review ratings and review counts against similar businesses on each publisher we monitor for reviews. This allows you to see if your locations are underperforming, performing as expected, or outperforming, similar businesses nearby.
Our system uses the locations' category and geographical area to determine similar businesses to compare with. Unlike the Competitor's Average Rating, where competitors are entered manually, these similar businesses are determined automatically by our system.
You can hover over a bar in the graph and click on the View Reviews link to navigate to the Review Monitoring tab.
Competitors Average Rating

Compare your review ratings to the review ratings of up to five local competitors on major publishers such as Facebook, Google, and TripAdvisor. Competitors in this section need to be set up manually, by entering your competitors in Yext Content. If you haven't added any competitors, you will not see any data in this section. For steps on how to add competitors, see Set up Competitive Intelligence. Once this is set up, you can click on a publisher icon to see how you compare to competitors on that publisher.
To learn more about Competitive Intelligence, see the Reviews Competitive Intelligence Hitchhikers Unit.