The Post feature allows you to make posts on Facebook, Foursquare, Google, and your website, directly from your dashboard.
Note: As a result of important updates that need to be shared as a result of COVID-19, Google has expanded its functionality, so businesses of all sizes can leverage the Google Local Post feature within the Yext platform.
To create a post:
Click

Listings

in the top navigation bar.

Click on the Post sub-tab.
Click on the Make a new post... text box.
Add content to create your post.

To add an Embedded Field to the post, click on the plus sign () in the bottom right corner of the text box.

Note: Embedded fields are not available for all publishers.

Note: Character limits differ by site, see the next section of this article for more information.
If applicable, select the locations you would like to post to. Otherwise, all locations will be selected by default.

Click on the All Items button and select the desired locations, folders, or labels.
Click Apply.

Click on the relevant icons to select or deselect the sites you would like to post to. When a site is deselected, the icon will be grayed out.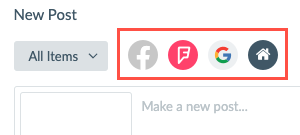 Partners and Small Business Customers: (Optional) To add an Event or Call to Action to a Google Local Post, click + Add Event or + Add Call to Action.
Click Post Now to publish your post, or click on the drop-down button next to Post Now to schedule the post for a future date and time.
Character limits by site
Facebook (

): 5,000 characters
Foursquare (

): 10- 160 characters

Google Local (

): 1,500 characters

Your Site (

): 5,000 characters