The Post feature allows you to make posts on Facebook, Google, and your website, directly from your dashboard.
To create a post:
Click

Listings in the navigation bar and click Post.
Click on the + Add Post button.
If applicable, select the locations you would like to post to. Otherwise, all locations will be selected by default.

Click on the All Items button and select the desired locations, folders, or labels from the drop-down menu.
Click Apply.

Click on the relevant icons to select or deselect the sites you would like to post to. When a site is deselected, the icon will be grayed out.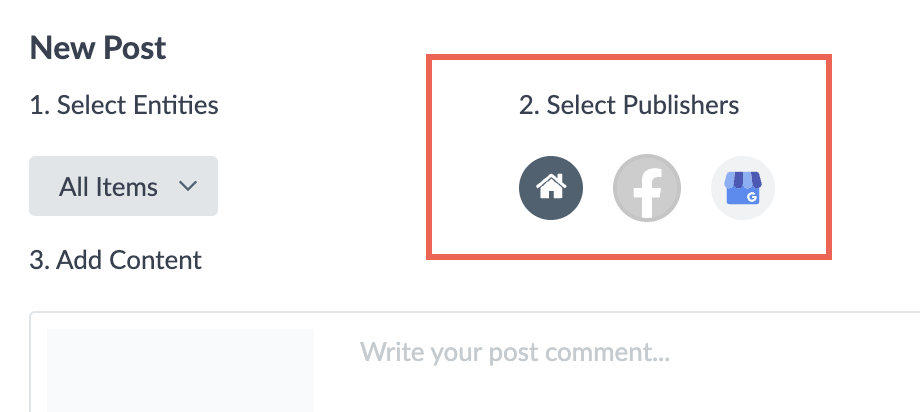 Add content to create your post.

To add an Embedded Field to the post, click on the plus sign in the bottom right corner of the text box.

Note: Character limits differ by site, see the next section of this article for more information.

(Optional) To add an Event or Call to Action to a Google Local Post, click + Add Event or + Add Call to Action.

Note: If your Google Local Post has an Event, the End Date must be within a year of the posting date.

Click Post Now to publish your post, or click on the drop-down button next to Post Now to schedule the post for a future date and time.
Character limits by site
Facebook (

): 5,000 characters
Google Local (

): 1,500 characters

Your Site (

): 5,000 characters
Adding a Top-level Comment
If you allow customers to leave comments on your posts, those comments will be pulled in and displayed underneath your post in the Yext platform. To add a top-level comment to the post, select your desired location, write your response in the comment box, and press Enter on your keyboard when you are finished.