This article outlines the steps you can take within your Yext account to indicate that a location is temporarily or seasonally closed. To permanently close a location, see How to close a location.
Note: Given the current situation, we know that most closures will be as a result of COVID-19 related guidelines. For more information on how to update your business information as it relates to COVID-19, see
Leverage Yext to Provide Information on Coronavirus
.
To indicate that an entity is temporarily or seasonally closed:
Select the entities you would like to mark as temporarily closed.

Click Content in the navigation bar and click Entities.
Click on the entity you would like to edit.


Enter

the reopen date.




Click on the Hours (Temporarily Closed)

field.

Select the checkbox next to

Temporarily Closed.

Enter the reopen date.

Given the current situation with COVID-19, we know reopen dates may be subject to change. You can update your reopen date at any time. In the meantime, we recommend adding something that is

both realistic and far enough in the future to limit the number of times you update this field.

Click Save.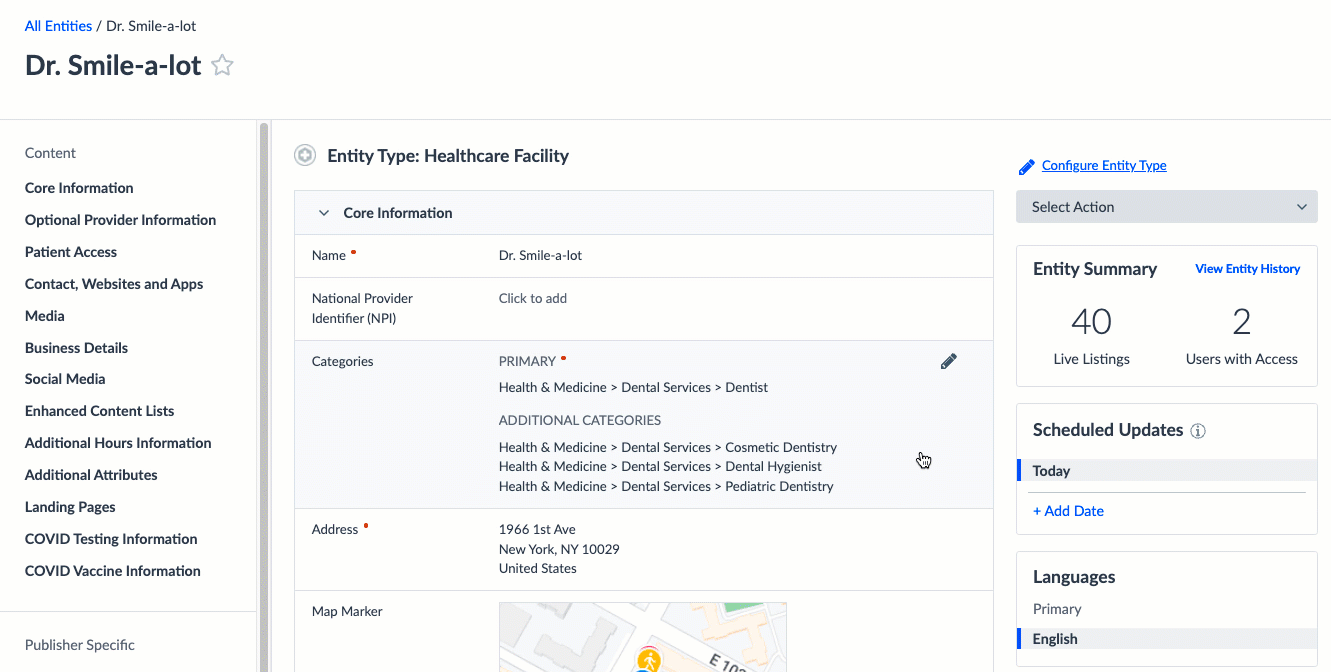 Once a reopen date is set, the hours for the entity will display as 'Closed' on Listings, Pages, and Search until that date is reached. Once we reach the reopen date, the normal hours will begin to show again and the Reopen Date field will reset to be empty.
You can still make any adjustments to your hours and holiday hours as needed. They will just be overridden as 'Closed' until the Reopen Date hits. On the reopen date, the updated hours and holiday hours will begin to display.
Note: Not all publishers accept this field, so you are not able to send temporary closure messaging to certain sites. For publishers that don't support temporarily closed flags, we will send holiday hours as 'Closed' for publishers that support holiday hours.
To re-open these locations, click into the Hours (Temporarily Closed) field and deselect the checkbox next to Temporarily Closed.